Have all your reading in one place
Read later and RSS client for iPhone, iPad and Mac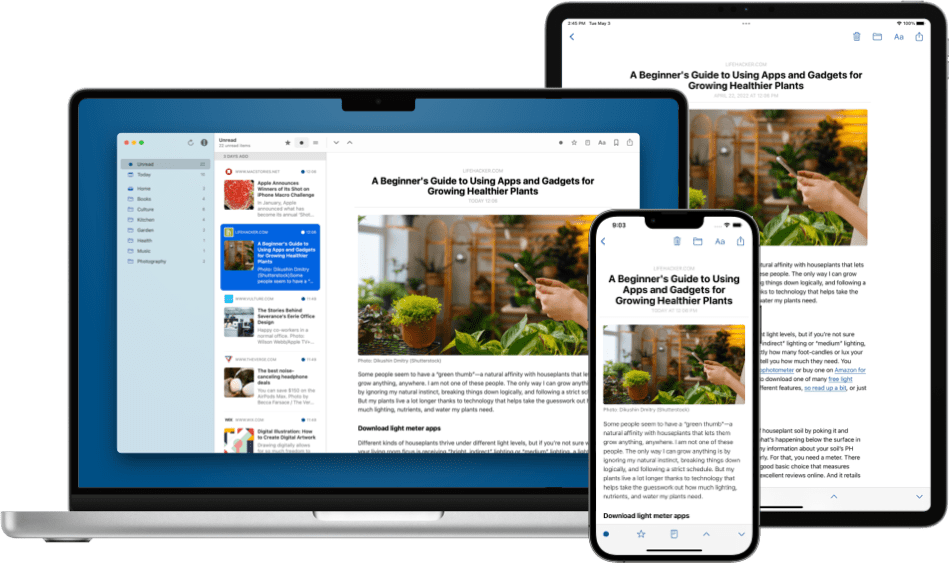 Supported services:

Built-in RSS

BazQux

Feedbin

Feedly
Feed Wrangler

Fever

FreshRSS

Inoreader

Miniflux

News Blur

The Old Reader

Tiny Tiny RSS

Instapaper

Pocket

Pinboard

Wallabag
Features:
All your reading in one place, multiple account support.
Universal app: same features and same services are supported on iOS and macOS
Sync with all major RSS aggregator and read later provider or use it with built-in RSS engine.
Feed and folder management for RSS services.
Organize subscriptions / articles into folder / tags.
Smart folders whose content is automatically updated according to your search criteria.
Offline reading and image caching.
Sync in the background.
Built-in reader mode to extract full content of articles.
Automatic reader mode.
Share extension that save articles from Safari and other application for later reading.
Subscribe to YouTube channels and playlists.
Customizable user interface.
Support for light and dark mode and color themes.
Save content for offline viewing.
In-app browser for viewing links and other references.
Preference to display unread items on the app badge.
Search for articles by content, title or source.
Full support for hardware keyboard.
Import and export of feed subscriptions via OPML.
Mark articles as read on scroll or mark them all by a tap of a button.
Mark as read above or below from context menu.
Filter articles by read or starred status.
Send articles in email.
Share articles with apps, social media accounts, and other services via share sheet.